James L. Brown is the husband of Ruth Brown and the father of daughter, Jennifer, and son, Jeremy. He is also the proud grandfather of five grandchildren. Jim graduated from high school in 1975 and has 32 years of experience in the paint business. James L. Brown, owner and CEO of J.B. Painting and Waterproofing, Inc., has long been familiar with South Florida. He originally started as a paint contractor in Indiana but the rough winters there convinced him to sell his business and move to Florida. In 1979, from a one-man cage he personally painted his first Florida high-rise. In 1981, he became a painter with Don Gagnon. Since then, the company has incorporated and grown into a business of approximately 100 employees. When Don Gagnon retired in 1992 James Brown took over as President of the company. Over the years, the company has earned the confidence and respect of many loyal customers in Florida and has also done work in other states including: Oklahoma, Illinois, Tennessee, Georgia, Alabama, New Jersey, New York, Connecticut, Pennsylvania, North and South Carolina, Texas, and Massachusetts to name a few. Jim Brown has built J.B. Painting & Waterproofing on a foundation of quality, experience and professionalism. Repeat business has helped to make it one of the largest painting and waterproofing companies in the southeastern United States.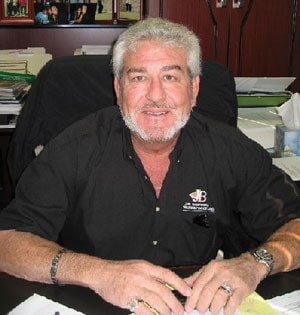 Vice President and Director of Field Operations
Ken Senick, Vice President and Director of Field Operations, has been a member of J.B. Painting and Waterproofing Inc. since 1982. He oversees all field operations and has direct responsibility for our 100 field technicians. Ken has overseen literally thousands of successful projects located as far north as Maine to Chicago to the West Coast. He spends his time traveling to each project to ensure adherence to our high standards of workmanship and professionalism. Some of the more notable projects that he has recently completed are: Town of Celebration, Celebration, Fla. – A year-long remedial exterior painting and waterproofing project of an entire town developed by Disney and Arvida. Ritz Carlton Manalapan – Waterproofing project. Paramount Hotel Group – Repainting of 20 Susse Chalet Hotels, located between Maryland and Maine, which were converted to Fairfield Inns. Walgreens – Interior painting and wallpapering of over 100 Walgreens stores located in Central Florida during the summer of 1999. Grant Key Resort – Key West, Fla. – Interior and exterior painting and waterproofing (new construction) of this 220 room luxury resort.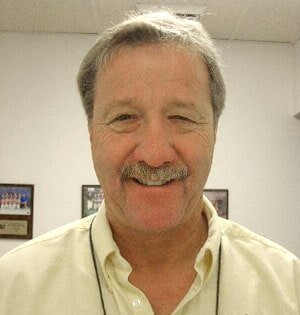 Reed Endo has been a sales representative with J.B. Painting and Waterproofing since 1998. Born and raised in New York City, he has earned both Bachelor of Arts and Master of Science degrees. Before joining our company, he was the owner of a Pittsburgh Paints and Pratt and Lambert dealership in Boca Raton. Reed's project portfolio includes the Ritz-Carlton Naples, the Biltmore Hotel in Coral Gables, the Hyatt Regency Miami, the Mizner Grand Condominium in Boca Raton and Chase Federal Bank properties throughout Florida. The scope of work on these challenging projects included remedial painting, waterproofing, window glazing, specialty coatings and stucco restoration. The managers of these properties have noted, without exception, that J.B. Painting and Waterproofing delivered their best managed project in recent memory.
Assistant Field Supervisor
Robert Carroll is the proud father of two daughters. He moved to Florida from Indiana in 1982 and began working with Jim Brown at Don Gagnon Painting & Waterproofing. Bobby has been with Don Gagnon/J.B. Painting & Waterproofing, Inc. for a little over 20 years. Although Bobby left J.B. Painting for a few years, he continued in the painting industry in Nashville, Tenn. He then moved his family from Nashville to Sarasota, Fla. where he worked for a year. After the year in Sarasota, Bobby was transferred to the East Coast to help Field Supervisor, Ken Senick . He has moved his way up in the company and in 2002 became Assistant Field Supervisor.
Jeremy Brown, the son of owner and CEO James Brown, began working for J.B. Painting & Waterproofing as a sales representative in November of 2011. Given his close relationship to his father and the company, however, he has worked on and off for J.B. Painting , while attending school, since he was about 13 years old. Jeremy graduated from The Florida State University in 2009 with a Bachelor of the Arts for International Affairs, with a minor in Communications. After graduating, Jeremy took on a position as manager of Level 5 Fitness & Conditioning in Delray Beach, where he specialized in customer relations as well as membership sales. Jeremy brings to the company a charismatic and ambitious persona, as he is always ready and willing to do whatever it takes to bring complete satisfaction to the customer.
Dale Davis represents J.B. Painting & Waterproofing, Inc. from Palm Beach to Hutchison Island. Originally, from Maryland, Dale moved to South Florida in 1980. She has been in the painting and waterproofing industry for thirty-five years. Dale was a paint coatings representative for two major paint manufacturers in South Florida prior to joining J.B. Painting & Waterproofing, Inc. in 1993. She has a vast knowledge of paint coatings and their application. Dale currently resides in West Palm Beach.